VH1 CLASSIC ON TAP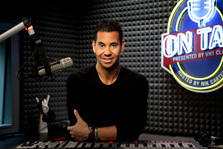 Posted: Dec 14, 2012
It's your last night to try and win Saint Nik's Holiday Sack! Make sure you're listening all show long for your chance to grab the final sack! So many rockin' treats are stuffed inside this one! The first person to tweet us @OnTapRocks with the correct artist/band singing the holiday tune wins Saint Nik's Holiday Sack!
Also on the show tonight, Motley Crue's Vince Neil shares his opinion on social media, Peter Frampton reveals his early musical influences and Pink Floyd's Nick Mason debates the success of Dark Side of the Moon.
Join us at the Rock Bar at 7pm!
No Comments »
No comments yet.
RSS feed for comments on this post. TrackBack URL
Leave a comment