VH1 CLASSIC ON TAP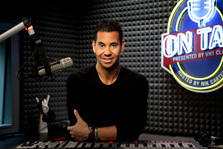 Posted: Nov 29, 2013
Whether you're still nursing your tryptophan hangover or you've finished all your holiday shopping on this Black Friday, On Tap with Nik Carter is back at the Rock Bar and kicking off every hour with a classic "Black" song.
On top of that, Nik and the On Tap Crew have lined up exclusive audio from Tom Petty, David Lee Roth, Stevie Nicks and more!
Make sure you head on over to the On Tap Facebook page to vote on the latest Vintage Brew poll.
Tonight is also the last night for your chance to enter to win a copy of Bruce Springsteen In Focus autographed by photographed Debra L. Rothenberg. During the show, Nik will tell you when to tweet @ontaprocks and be sure to include #SpringsteenInFocusOnTap and you'll be entered to win!
No Comments »
No comments yet.
RSS feed for comments on this post. TrackBack URL
Leave a comment