VH1 CLASSIC ON TAP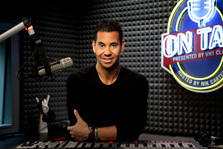 Posted: Dec 10, 2012
We've got a jam-packed rockin' show tonight at the On Tap Rock Bar!
First we welcome our new rockin' affiliate 96.5 WKLH in Milwaukee! Check out their live stream of On Tap whether you rock in Milwaukee or not.
It's Behind the Music Monday at the Rock Bar and Nik Carter is going Behind the Music with Motley Crue! You'll hear exclusive audio bites from the Motley Crue members and a few classic Crue tunes.
But wait, there's more! Bob Seger reminisces with us, Glenn Frey tells us about being a family man and Ian Anderson talks Aqualung.
We're not done yet! Tonight is night one of our holiday giveaway featuring rockin' books, CDs, DVDs and more! Each night the prizes from Saint Nik's Holiday Sack get bigger! All you have to do to win is listen to the show and when you hear a holiday tune be the first person to tweet us with the artist/bands name @OnTapRocks and you'll win the goodies inside Saint Nik's Holiday Sack!
This contest is subjected to official rules found at the bottom of our homepage.
No Comments »
No comments yet.
RSS feed for comments on this post. TrackBack URL
Leave a comment