VH1 CLASSIC ON TAP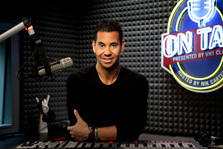 Posted: Dec 11, 2012
Who doesn't want to see the booty inside Saint Nik's Holiday Sack? All week the sack gets bigger with more goods! Tonight inside Saint Nik's Holiday Sack, you will win:
4 Coaster from the On Tap Rock Bar
The Who Live at Hull 1970 – Deluxe Edition CD

The Doobie Brothers – Live at the Greek Theatre, 1982 Farewell Tour CD
Deep Purple – Live in LondonCD
Deep Purple In Concert – Two Complete 1970-1972 Recordings CD
Deep Purple – MK III The Final Concerts CD
KISS – Monster CD
Autographed:Heart – Fanatic CD
Autographed: Ben Waters – Boogie 4 Stu, A Tribute to Ian Stewart CD
Autographed: Lynyrd Skynyrd – Last of a Dyin' Breed CD
Autographed: Anvil – Juggernaut of Justice CD
Autographed:Leslie West – Unusual Suspects CD
Autographed: Duff McKagan's Loaded Special 'SICK' Edition CD/DVD
Twisted Sister – Double Live, North Stage '82 & New York Steel '01 DVD
Deep Purple – Phoenix Rising: The Untold Story of Deep Purple Mark IV + Rises Over Japan – The Lost 1975 Concert Film DVD
The Black Crowes – War Paint LIVE DVD
Dust in the Wind – 35th Anniversary Book with Forwod by Kerry Livgren
Autographed: Kicking & Dreaming: A Story of HEART, Soul and Rock & Roll – By Ann & Nancy Wilson (With Charles R. Cross)
Want to win all the goods tonight? Listen to On Tap starting at 7pm EST for your chance to WIN! When you hear a holiday song be the first person to tweet us @OnTapRocks with the artist/band who is singing the song and you WIN! It's that easy!
1 Comment »
Nice on all of the autographs

Comment by Pete Krolczyk — December 11, 2012 @ 12:34 pm
RSS feed for comments on this post. TrackBack URL
Leave a comment