VH1 CLASSIC ON TAP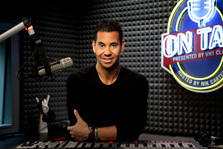 Posted: Dec 14, 2012
It's the final night for you to try and win Saint Nik's Holiday Sack! We have an exclusive sneak peek inside the final sack. There's plenty of rockin' goods in this one:

Icons of Rock CD
Deep Purple – Live in London,2 Disc CD
Deep Purple In Concert – Two Complete 1970 – 1972 Recordings, 2 Disc CD
Deep Purple – MK III The Final Concerts, 2 Disc CD
KISS – Monster CD
The Who – Live at Hull 1970 – Deluxe Edition, 2 Disc CD
The Doobie Brothers – Live at the Greek Theatre, 1982 Farewell Tour CD
AUTOGRAPHED: Lynyrd Skynyrd – Last of a Dyin' Breed CD

AUTOGRAPHED: Anvil – Juggernaut of Justice CD

AUTOGRAPHED: Leslie West – Unusual Suspects CD

AUTOGRAPHED: Ben Waters – Boogie 4 Stu, A Tribute to Ian Stewart CD
AUTOGRAPHED: Heart – Fanatic CD

Anvil – The Story of Anvil DVD
Paul Rodgers & Friends, Live at Montreux 1994 DVD
Freddie Mercury – The Great Pretender DVD
Twisted Sister – Double Live, North Stage '82 & New York Steel '01 DVD
Deep Purple – Phoenix Rising, The Untold Story of Deep Purple Mark IV + Rises Over Japan, The Lost 1975 Concert Film DVD
The Black Crowes – Warpaint Live DVD
Dust in the Wind – 35th Anniversary, foreward by Kerry Livgren
AUTOGRAPHED: Kicking & Dreaming – A Story of Heart, Soul and Rock & Roll, by Ann & Nancy Wilson with Charles R. Cross
AUTOGRAPHED: Light & Shade – Conversations with Jimmy Page by Brad Tolinski
It's the same rules as it's been all week to win Saint Nik's Holiday Sack. Be the first person to tweet us @OnTapRocks with the correct artist/band singing the holiday song and Nik's sack is yours!
1 Comment »
pick me please

Comment by Tom Dickerson — December 30, 2012 @ 5:35 pm
RSS feed for comments on this post. TrackBack URL
Leave a comment