VH1 CLASSIC ON TAP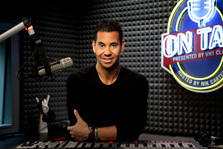 Posted: Dec 04, 2013
It's the giving season again at the On Tap Rock Bar! For the second annual "St. Nik's Holiday Sack" Giveaway all you have to do is "Like" On Tap with Nik Carter on Facebook and fill out the entry form. You have until December 13th to enter this contest.
Five lucky winners will receive St. Nik's Holiday Sack filled with:
"Juke Box Hero" book by Lou Gramm
Jimi Hendrix Experience's "Miami Pop Festival" CD
Richie Blackmore's Rainbow "Black Masquerade" DVD
Deep Purple with Orchestra "Live at Montreux" CD
Joan Jett & The Blackhearts autographed "Unvarnished" CD
"An Introduction to Syd Barrett" CD
Blue Oyster Cults Box Set sampler
Lynyrd Skynyrd's "Last of a Dyin' Breed" CD
The Who's "Live at the Hull" 1970 CD
Velvet Underground's "Icon" CD
Deep Purple's "Scandinavian Nights" CD
Stevie Nicks "In Your Dreams" CD
Eric Clapton's "Slowhand" CD, 35th Anniversay Edition
"J. Edgar Hoover" DVD
Paul Rodgers & Friends "Live at Montreux 1994″ DVD
"The Story of Anvil" DVD
Black Crowes' "Warpaint Live" DVD
This contest is subjected to official rules.
3 Comments »
Diggin the show here in Montana!

Comment by Anthony D Thompson — December 4, 2013 @ 7:06 pm

Rock on Anthony \m/ Thanks for tuning in!

Comment by Vh1 Classic On Tap — December 5, 2013 @ 9:08 am

Nik, I'm one of the winners (ShooterOneSix on Twitter)!

I will FOREVER be singing your praises and telling EVERYONE to listen to your show!

Comment by Jamie Taylor — January 21, 2015 @ 7:45 pm
RSS feed for comments on this post. TrackBack URL
Leave a comment