VH1 CLASSIC ON TAP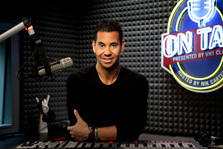 Posted: Aug 30, 2012
Gather 'round children, gather 'round! We've got a brand new installment of On Tap with Nik Carter tonight!
Besides the fact that we're celebrating the impending weekend this Thursday night, here's what else Nik is serving from our Rock Bar:
Robby Krieger will talk about The Doors. John Mellencamp is going to explain why Farm Aid is important. Eric Clapton tells us all about his very first guitar. Also, Sir Paul McCartney will talk about The Beatles and how he is just amazed by it all. Roger Daltrey opens up about performing live and Keith Richards reveals how the Rolling Stones got their name!
Tonight's show is jam-packed with only the best and most exclusive interviews and classic rock music.
Don't miss On Tap with Nik Carter tonight from 7pm to Midnight (EST)!
No Comments »
No comments yet.
RSS feed for comments on this post. TrackBack URL
Leave a comment