VH1 CLASSIC ON TAP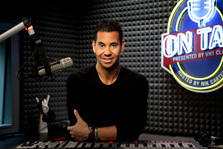 Posted: Dec 13, 2012
Tonight at the On Tap Rock Bar Nik Carter will spin exclusive performances AND comments from performers at last night's historic 12-12-12 Concert for Sandy Relief!
Just to give you a little taste of the rocking, awesome goodness – check out what Steven Van Zant had to say about last night's benefit concert:
Steven Van Zant Backstage Audio from 12-12-12 Concert
We'll have more exclusive bites from some of your favorite rockers from last night's EPIC rock concert. And don't worry, Kanye West's skirt will NOT be making an appearance on our show tonight.
Don't forget we're still giving away Saint Nik's Holiday Sack! Tonight the sack gets a little bit bigger! If you want to win Saint Nik's Holiday Sack, listen throughout the show and be the first person to tweet us @OnTapRocks with the correct artist/band singing the holiday song! It's that easy to grab one of Saint Nik's Holiday Sack!
No Comments »
No comments yet.
RSS feed for comments on this post. TrackBack URL
Leave a comment