VH1 CLASSIC ON TAP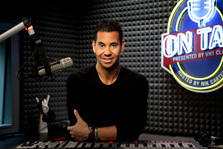 Posted: Aug 27, 2013
Tune in to On Tap with Nik Carter tonight for Vintage Brew Tuesday. Nik Carter and the On Tap Crew are playing back the top 5 songs that you voted on.
There will also be exclusive audio from Alex Lifeson, Stevie Ray Vaughan, George Thorogood and more!
Don't miss the second night of our "Rock for the Rising Sun" DVD giveaway. When you hear an Aerosmith song at any point during the show (and yes, there will be more than one Aerosmith tune each night) tweet the show, @ontaprocks, with the correct song title and be sure to include the hashtag #AerosmithOnTap. Good luck!
This contest is subjected to official rules.
No Comments »
No comments yet.
RSS feed for comments on this post. TrackBack URL
Leave a comment